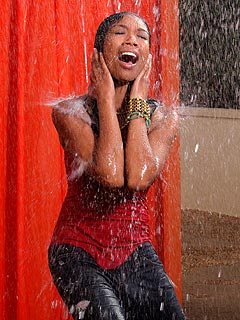 it was raining the whole morning, yet we still went out. luckily the rain seemed to stop (or rather drizzled) at intervals at the right time. my sister needed to change her Mykad, so we went to the state registry department at A.Keroh. mine was done at the Jasin's department years ago, but i didn't ask why dad told me to bring my sister to the former. maybe coz of the 2 hours processing time? i'm not sure.
it was a good thing we had our passports done there before, else i wouldn't know my way and would probably be a lost sheep there. we arrived around 9.30 and it was still raining. i planned to go earlier to skip the crowd, and also to skip the crowd at the Jcard Members' Day at Jusco Melaka :p. but the rain made us start later than intended, still there wasn't much people around at the department.
when i walked in the Mykad section, i noticed that the hours started from 7.30am..that's real early. i wouldn't want to work there, although it seems that they've a quite relaxed atmosphere. it took my sister just a few minutes to settle everything and we were off to Jusco while waiting for the 2 hours before the Mykad is ready.
i thought the rain would somehow lessen the huge crowd, but i guess the discounts offered are better than being warm at home. the cars queuing up to enter the parking lot was as long as during the weekends, maybe the lot even took leave from work just for the day :p i wasn't going to wait forever just to end up going round and round looking for a spot to park the car. so i decided to park at the opposite Melaka Mall and cross over. there the parking lot was mostly occupied. it was just 10am, and rain didn't deter anyone.
there were people already leaving with trolley full of goods by the time we arrived at the entrance. the throng of people were everywhere, flocking at the bags section, the clothes..everywhere. i didn't even move much, i helped my sister to choose a bag (one that she said could make her look a bit more grown up :p). then i went to purchase a pair of sandals coz the flip flops that i was wearing was getting dangerously slippery..i wouldn't want to slip with 'flair' on the wet pavement or puddles. owh, we even managed to lose an umbrella. the first time we left it, we got it back safe and sound. but we were not so lucky the second time :p
we decided to head back and get the Mykad (fortunately the two places weren't that far from each other) after we've done with the shopping part. i was relieved to be out of the 'ants' nest'. it was getting hard to breathe and hot at the same time.
after everything is settled at the registry department, we headed to Dataran Pahlawan for a movie. i was really looking forward to watch S.A.T.C. 2, but was devastated when i already missed the 12 something show..and the next was at 3.30pm. i was tired and wouldn't want to wait that long for the movie. so i just followed when my brother and sister chose to watch Toy Story 3. i am not a big fan of cartoons and would rather watch anything else but. yet the story was really good, and i didn't regret watching it. not even for a minute.