I just watched
Killers
,
Letters to Juliet
, and
Knight and Day
..in no correct order. I think all three movies were great, not all the 1 hour plus of each movie of course..but they were still delightful.
In Killers, Ashton Kutcher was oh-so-handsome as the retired assassin. I love when he wore the white safety helmet and the white shirt at the construction site, he had this cheeky look on his face..despite putting on the pair of shades. But I think he needs to work on his moves - he seemed 'old' and couldn't move fast enough after he got married for three years. Luckily all the people trying to kill him were sloppy too :p
definitely adding Nice, France to my wishlist after the movie
love Heigl's green dress


 And everyone would know what kind of effects the Letters to Juliet had on me - I was close to hijacking a plane and directing them to Italy right then and there while watching the movie. Everything was so beautiful.
The words in the letter written by Sophie for Claire was only read at the end of the movie, during Lorenzo and Claire's wedding..
"Dear Claire, "What" and "If" are two words as non-threatening as words can be. But put them together side-by-side and they have the power to haunt you for the rest of your life: What if? What if? What if? I don't know how your story ended but if what you felt then was true love, then it's never too late. If it was true then, why wouldn't it be true now? You need only the courage to follow your heart. I don't know what a love like Juliet's feels like - love to leave loved ones for, love to cross oceans for but I'd like to believe if I ever were to feel it, that I will have the courage to seize it. And, Claire, if you didn't, I hope one day that you will. All my love, Juliet"
they should do this scene naturally though
Knight and Day was funny and I'm impressed that Tom cruise and Cameron Diaz did a majority of the stunts on their own.
the cute yellow dress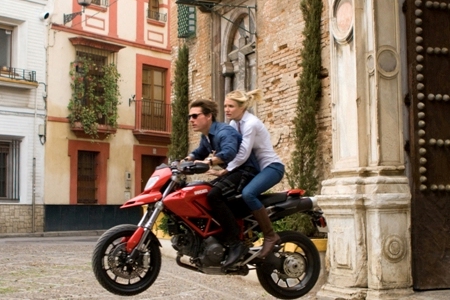 images from Google